STAMP DEMON //// Household Names //// London Shopping Experience - Online //// Department Stores //// Clothing //// Footwear //// Jewellery //// Gifts //// Lingerie //// Toy Shops //// Hampers //// Beauty //// Electical Shops //// Parent and Child //// Shopping Centre //// Home and Garden //// Site Index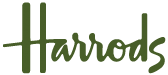 Harrods
---
Welcome to the Harrods of Knightsbridge - London, page at STAMP DEMON. Please read their text below, then indulge yourself by visiting the store.
Harrods: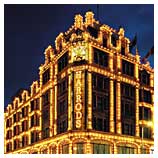 "Since the store first opened its doors in 1849, Harrods has always prided itself on a reputation for excellence, that nothing is too much trouble to our customers, and finding the finest-quality merchandise. But this is just part of the Harrods story. The store is much more than a shopping destination, more than just a splendid building. Its story is tied up in the people who have passed through its doors, worked here, written about it and added to its magnificent architecture.

Noël Coward, Sigmund Freud, Oscar Wilde, Queen Mary, AA Milne and Pierce Brosnan have each added their own mark to the store's rich patina – and as each year goes on, Harrods continues to grow, adapt, reassess and reinvent itself to create a new history.

The Early Days
The Harrods story started in 1834 in London's East End, when founder Charles Henry Harrod set up as a wholesale grocer in Stepney, with a special interest in tea. In 1849, to escape the filth of the inner city – and capitalise on trade to the Great Exhibition of 1851 in nearby Hyde Park – Harrod took over a small shop in the new district of Knightsbridge on the site of the current store. From a single room employing two assistants and a messenger boy, Harrod's son Charles Digby built up the business into a thriving store selling medicines, perfumes, stationery, fruit and vegetables, expanding into the adjoining buildings and employing 100 staff by 1880.

But the store's booming fortunes changed in 1883, when it burnt to the ground in early December; with true Harrods mettle, Charles Digby fulfilled all the Christmas deliveries – and made a record profit for the store. A new building immediately rose from the ashes, and soon it extended credit for the first time to its best customers – among them Oscar Wilde and legendary actresses Lilly Langtry and Ellen Terry.

Public Company
But the Harrods family decided they had enough of retail, and in 1889 the store became a public company. The 1890s were boom time, and new departments were added – including the Harrods Bank and Estate Agency – as well as the very first sale or 'Winter Clearance' in 1894. The new Managing Director Richard Burbidge was well ahead of his time, introducing the world's first escalator in 1898 (with brandy at the top to revive nervous customers), shortening working hours for his 200 staff, and devising of a grand plan to build the world's most luxurious department store.

Takeover Makeover
During the 1980s, Harrods found itself feeling outmoded despite the Toy rooms being expanded and moved to the fourth floor. It was only when the Fayed family acquired the House of Fraser Group for £615 million that Harrods became a family-owned firm once again and the store's fortunes began to turn. Mohamed Al Fayed assumed the title of Chairman and instantly inititated a £300 million refurbishment plan to restore Harrods to its former glory.
A Kind of Magic
The energy of store today comes across in the unexpected. Perhaps opera singers performing arias up the Egyptian Escalators, Joan Collins signing her latest book or Donatella Versace launching her newest fragrance in person. But the unexpected also comes from attention to every detail in every department. Whether you are booking theatre tickets, having a facial, ordering sashimi or choosing from our 300 varieties of cheese, Harrods will make shopping not just a chore or a pastime, but an experience.

Harrods has remained London's premier retail outlet for over 155 years, yet the fundamental ethic of selling quality merchandise and giving customers exemplary service has never been questioned or compromised. At Harrods, truly anything is possible."
If you have been tempted by this, here's the link:
CLICK HERE TO VISIT THE HARRODS WEBSITE!
http://www.harrods.com affiliate program was with TradeDoubler. The program has now closed, but we thought you might like to visit their site anyway! If not, you can always visit our own Shopping Centre!
---