STAMP DEMON Home Page //// Household Names //// Finance //// Credit Cards //// Halifax Car Insurance //// Halifax Pet Insurance //// Halifax Home Insurance //// Site Index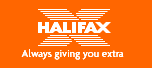 Halifax One Credit Card
---
Welcome to the Halifax One Credit Card page at STAMP DEMON. The progam has now closed. The details below, were correct at the time of its closure 2008/03/28
Halifax One Credit Card:
"The Halifax One card has both attractive rates and great benefits.
A sensationally low typical 9.9% APR (variable)
0% on purchases for the first 9 months
0% for 9 months on balance transfers made in the first 90 days. (A handling fee of 3% applies per balance transfer)
Plus lots of extras too:
- No annual fee
- Up to 59 days interest free credit on all purchases if you pay off your balance in full each month
- Cover against online fraud when purchasing on the Internet
- Accepted wherever you see the MasterCard sign – in over 24 million locations worldwide
- Card replacement if lost
- Extra cards for family members over 18
- Around the clock service
- Manage your card online."
If you have been tempted by this, here's the link:
THE LINK WAS HERE TO GO TO THE PLACE!
http://www.halifax.co.uk affiliate program was with Tradedoubler. The program has now finished. Until it returns, for alternatives please visit our Credit Cards page.
---