STAMP DEMON //// Finance //// Credit Cards //// Site Index
Bread Card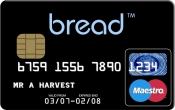 ---
Welcome to the Bread Card page at STAMP DEMON. Please read their text below.

BREAD Card:

"BREAD Prepaid Maestro® Card - the best thing since sliced bread.

Exciting new entrant into the Prepaid (pay-as-you-go) card market.

Top up card with cash at PayPoints or wage transfer (via BACS). It is simple and easy to apply on-line and you only need either a UK driving licence or international passport number together with a UK address (address subject to verification). No Credit history required.

The card is aimed at those who do not have access to a Maestro facility such as individuals with debt/credit problems or recent immigrants to the UK. It can also be used as a budget tool for those who do not want to extend credit card bills.

Can also be used to have wages or expenses paid onto the card from employers.

The BREAD Card only costs £10 and can be paid by another card or via SMS.

Fees, terms and conditions apply (refer to website for further information).

Customers can now load for FREE at the POST OFFICE (funds available within 48 hours).

Loading via BACS or standing order is now FREE (we have removed all charges for card loading in this way). Customers only need to download a wage transfer form from our website www.breadcard.com or set up a standing order from any UK bank account using this form.)

FREE SMS balance checking service (it only costs you the price of a text on customers mobile plan). Customers simply text ?balance? and the last four digits of your card to 80800 - NOTE THE NEW NUMBER. (NB For this service to work cusotmers need to ensure that you they registered their mobile number on their account ? they can check this by logging onto your account).

p>The BREAD Card is issued by Newcastle Building Society pursuant to licence by MasterCard International Incorporated. Newcastle Building Society is authorised and regulated by the Financial Services Authority and is entered in the Financial Services Authority Register (www.fsa.gov.uk/register/) under Registration No. 156058."

If you would like more information or a quote, click on the link below:

THE LINK WAS HERE TO VISIT THE BREAD CARD WEBSITE

https://www.breadcard.com/index.aspx affiliate program was with Affiliate Window. The program has now finished. Until it returns, for alternatives please visit our Credit Cards page.
---