STAMP DEMON //// Household Names //// Shopping Centre //// London Shopping Experience Online //// Online Shopping Catalogues //// Menswear Catalogues //// Clothing //// Footwear //// Site Index

T M Lewin
---
Welcome to the T M Lewin web page at STAMP DEMON. Please read their text below.
T M Lewin:
"T.M.Lewin was founded in 1898 when Thomas Mayes Lewin opened his first shop, a gentleman's shirtmakers, in Jermyn Street, St James's, London.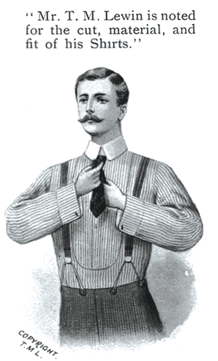 Early in our history, we acquired a reputation for quality and design and soon became recognised as the leader in our field, attracting local, national and international customers.
Innovation has always been important to us and nearly 100 years ago our founder became one of the first to make the 'coat-shirt', the groundbreaking idea of a shirt with buttons down the front.
Renowned for evolving our fabric designs to meet the demands of our customers, we have purposely introduced brightly coloured checked, striped and patterned shirts which bring a certain City bravado and thus individual flair, to the work uniform if that is desired.
It was this continuing customer demand that led to the introduction of our highly successful classic suits in Autumn 2005, after two years of development. We have also extended our highly respected knowledge of cut, quality and style to a popular range of modern casuals, shoes and accessories.
A leading retailer of shirts, ties, suits and more for both Men and Women. Famous in the City of London as being the choice of wardrobe for many business's T.M.Lewin truly produce a business wardrobe.
Expanding rapidly in the last decade with now over 45 stores in the UK alone."
If require more details on the products and services they provide, please click on the link below:
CLICK HERE TO VISIT THE T M LEWIN WEBSITE!
http://www.tmlewin.co.uk/ affiliate program is with Affiliate Window
If you find a problem with this or any other page, please email us.
---