STAMP DEMON //// Household Names //// Shopping Centre //// Home Shopping Catalogues //// Electrical Shops //// Computer Shops //// Site Index

LINDY Electronics
---
Welcome to the LINDY Electronics online shopping catalogue at STAMP DEMON. Please read their text below.
LINDY Electronics:
"LINDY is one of the world's leading suppliers of computer and AV connection technologies.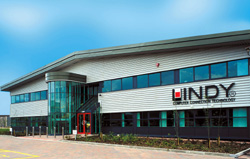 Established in Germany in 1932, we've grown from a small family business selling petroleum lamps, radios and electrical components into a multinational group of independent companies.
Our offices are located in Germany, Great Britain, Italy, Switzerland, France, the US and Australia. An international arm, based in the UK caters for our customers in Eire, Spain, Portugal, Scandinavia, Eastern Europe, Africa and the rest of the world.
With over 75 years experience at the forefront of the electronics industry, LINDY provides a vast range of networking and connection solutions to individuals and businesses.
We have built up a formidable reputation for providing outstanding consumer choice and product quality, backed by unrivalled levels of customer service.
LINDY customers keep coming back because they know that our vast inventory is constantly refreshed and offers superb value - whether you are looking for a high-end solution for maximum performance, or a more cost-effective product.
Our consumer base is varied due to our extensive product range. Our product prices range from a few pence to several hundred pounds."
If require more details on the products and services they provide, please click on the link below:
CLICK HERE TO VISIT THE LINDY ELECTRONICS WEBSITE!
http://www.lindy.co.uk affiliate program is with Webgains
If you find a problem with this or any other page, please email us.
---