STAMP DEMON //// Sweet Shops //// Gifts //// Site Index

A Quarter Of
---
Welcome to the A Quarter Of page at STAMP DEMON. Please read their text below.
A Quarter Of:
"A little bit about A Quarter Of...
We came up with the idea for a fun, old fashioned sweetshop after a conversation in a pub!
We trundled off down memory lane, remembering all the sweets that we used to buy from the little sweetshop at the end of our road (on the way to school - most convenient!!). It was called 'The Chocolate Box'.
We were certain that the idea would not get any further because they couldn't possibly still make the sweets that we remembered with such fond memories... I mean if the did still make then surely we would have seen them around... and we hadn't... But in most cases they did (and do) still make them!!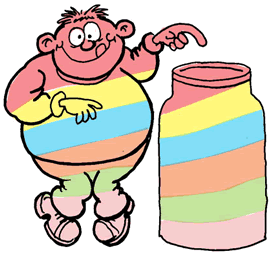 And so the idea was born. And the reactions of friends and family when we told them of the idea and their eyes glazed over as they started listing all the sweets that we just had to have in the shop (the list often went on and on - we struggled to keep up as we wrote the names down!) made us think that it would be a web site that people would like...
Then we needed a look for the site... and that's where the comic that we used to read when we were young came in - Whizzer and Chips (now sadly defunct) - we wanted an online sweetshop that looked like the comic.
A Quarter Of is a nostalgic online sweet shop which replaces the corner sweet shop that everyone remembers growing up with, which is sadly disappearing. Our sweets bring back fond memories of childhood days when the sun shone for longer, when you went everywhere with a whoopee cushion in your back pocket, and when your 6p change from your weekly dose of penny chews went on a copy of Whizzer and Chips.
We have around 600 old favourites - from Space Dust to Cherry Lips, Sweet Tobacco to Anglo Bubbly Bubblegum, Candy Necklaces to Blackjacks... And we're adding more all the time - if a sweet is still around, we'll find it and stock it!
Are we popular? Yes! We've been featured on BBC (Good Food Live, Working Lunch), ITV (This Morning), SKY News, Radio 5, The Sun, The Mirror, Daily Telegraph, The Times, The Guardian, The Mail.... the list goes on and on. In fact, we're recognised by many in the national media as the voice of the industry, so media coverage has always been one of our strengths.... we're a modest lot!
Fabulous Gifts!
As well as offering a huge range of sweets, we offer some fantastically original gifts - from our best-selling Wooden Boxes of Nostalgia to our beautiful printed gift boxes (always sent out with a fabulous fuschia ribbon wrapped around it), to jars in all shapes and sizes. We're being used as an original gift resource more and more, so this is creating really exciting growth within the company. We're also constantly adding to our Gifts section."
If require more details on the products and services they provide, please click on the link below:
CLICK HERE TO VISIT A QUARTER OF!

http://www.aquarterof.co.uk affiliate program is with Affiliate Window
---